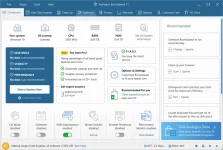 ​
INFO:
AusLogics BoostSpeed - the ideal solution to keep your PC running faster, cleaner and error-free. It's a powerful, all in one system performance and Internet optimizer suite. Being the best companion for Windows operating system, it's improving your Internet connection and optimizes your Windows system and other software. This results in a performance boost in both Internet connection and systems - without any new hardware, any hardware tweak, and without restricting your system's stability.​
FEATURES:
Be notified when your system can be optimized.
Improve Internet connection performance with Internet Optimization Wizard.
Tweak every aspect of your Internet connection manually.
View connections statistics, bytes sent/received and traffic by graph.
Optimize Internet Explorer, Mozilla, Opera browser.
Increase your Windows performance, optimize system memory.
Optimize Microsoft Office components.
Optimize ICQ, MSN Messenger, Outlook Express and Norton SystemWorks.
Stop banner ads with Banner Killer.
Check your system for possible optimizations in one go.
CHANGELOG:
Fixed the About tab to show correct subscription information.
Resolved a bug with automatic PC scans and repairs.
Fixed a number of minor bugs.
Homepage:
You must be registered for see links
Changelog:
You must be registered for see links
Released Date:
2020-03-18
OS:
XP/Vista/7/8/10
Language:
Multilingual