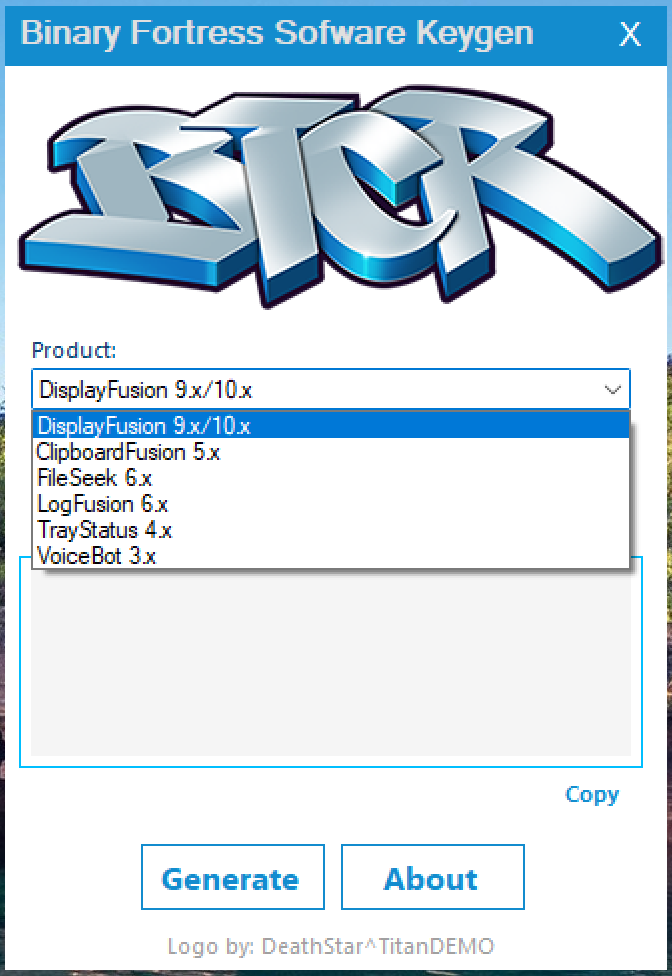 BinaryFotress Software Keygen-BTCR
​
Products Included:
DisplayFusion 9.x/10.x
ClipboardFusion 5.x
FileSeek v6.x
LogFusion v6.x
TrayStatus v4.x
VoiceBot v3.x
How to Install:
1. iNSTALL app.
2. Important Note :
Make sure you do not have any kg.exe or keygen.exe process running when registering inside the app or it will say the license is invalid.
3. Use keygen And Enjoy
Enjoy and Support Developers, Buy It, They Deserved It!

Download:
To see this hidden content, you must like this content.
File Properties:
Keygen:
MD5:
4bcc352698b1e1ad6be66d1b91b9a26c
SHA-1:
99aaec93bd913e1c583c1ead8186e722c21bb958
SHA-256:
7ce5e8a8e1662576b886631f8ad09bed03a917bcad5fb8714e9b116fe66fcbf1
Vhash:
You must be registered for see links
VirusTotal Report:
You must be registered for see links
Last edited: