INFO:
Updating drivers is usually an initial step to avoid hardware failure, system instability and hidden security vulnerabilities. To update drivers regularly is also an effective way to enhance your overall PC performance, and maximize your gaming experience. While this process could be risky and frustrating if done manually.
Driver Booster PRO is introduced to download and update drivers for you automatically with just one click. Based on cloud library, Driver Booster PRO can always be the first to identify outdated drivers, and download and update driver at an unrivaled speed. With the backup feature, it is an easy, effective and risk free solution to keep your drivers up-to-date.
Update Outdated Drivers Safely and Rapidly
- Support More Hardware Devices & Improve PC Performance
- Update Drivers 300% Faster with Just One Click
- Specialized Driver Tweaking for Top Gaming Experience
- Backup Drivers for Safe Restore
Driver Booster Pro Features:
- Download and Update Outdated Drivers with One Click
- Enhance Hardware Functionality for Top Performance
- Specialized Driver Tweaking for Top Gaming Experience
- Automatically Identify Outdated Drivers
- Support More Comprehensive Hardware Devices
- Enjoy Priority to Update Outdated Drivers Promptly
- Backup Drivers for Safe Restore
- Download and Update Drivers up to 300% Faster
- Automatically Update to the Latest Version
Changes in v10.0.0.65:
+ Expanded database to support updating up to 8,500,000+ drivers for more devices
+ Added more drivers for Windows 11 and supported more new hardwares
+ Enhanced driver update to provide better game drivers and more stable drivers
+ Optimized scan to be up to 20% faster
+ Optimized update engine for 10% faster update and a much higher success rate
+ Accelerated the effect of Game Boost by up to 12%
+ Brand-new UI for a more user-friendly experience
+ Supported 38 languages
+ More can be discovered by you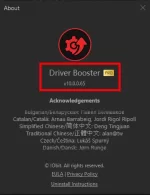 DOWNLOAD:
Medz: Fixed
To see this hidden content, you must reply and like this content.