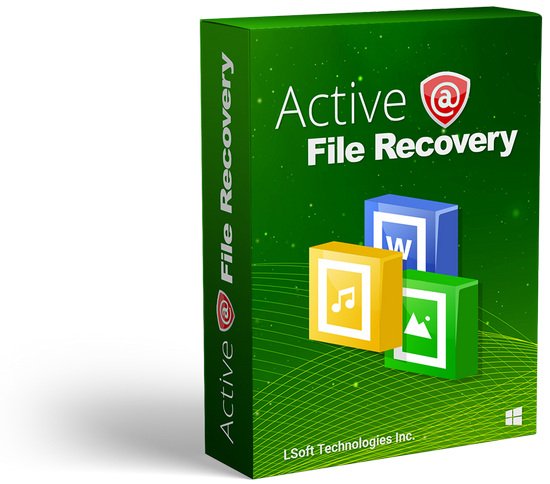 Description
Active File Recovery is an easy-to-use, reliable and effective tool for recovering data, even when your system won't boot.
The program makes it possible to effectively recover data that was accidentally deleted, formatted or lost. The program scans the hard drives
of computers in a matter of minutes and shows all the files that can be recovered. Easily recovers files that were lost due to damage or
a virus attack.
Key features of the program:
Data recovery on a non-bootable system
Recover deleted files from damaged, formatted or reformatted partitions
Recover files that were lost during formatting
Recovering partitions after formatting, damaged FAT, FAT32 and NTFS
System snapshots for recovery
Disk imaging
Поддержка FAT12, FAT16, FAT32, NTFS, NTFS5, NTFS + EFS
Hardware RAID Support
SuperScan technology recognizes 28 file types
Two types of disk scanning: Quick Scan (fast) and SuperScan (slow)
Full support for multilingual character sets (Unicode)
Key features:
• Recovers damaged Microsoft FAT / exFAT, NTFS / NTFS + EFS, Apple HFS +, Unix UFS, Linux Ext2 / Ext3 / Ext4 / BtrFS file systems.
• Supports FDD / HDD / IDE / SATA / eSATA / SCSI / SSD disks / RAID disk arrays, USB Flash Disks and Memory Cards, External USB drives
and USB3 disks.
• Recover large, compressed, encrypted and fragmented files in NTFS, just deleted files can be recovered based on NTFS log ($ LogFile).
• Active @ Scan technology allows you to recognize files based on the file signature for the following 123 types of files: documents,
pictures, music, video ...
• "Last chance" recovery method to detect files by their signatures.
• Recover data from not loaded due to computer breakdown, virus attack, malware damage, or PC power failure (Ultimate version).
• The final package includes a Linux-based Active @ LiveCD boot disk, the ability to boot all the latest x86 and x64 UEFI architectures
with Secure Boot.
• Creates and restores from Raw (sector-by-sector copy), compressed images and disk images created by third parties.
INSTALLATION NOTE
Read the Read-Me Supplied
Language: Multilanguage
File Size: 43.0 MB
To see this hidden content, you must react with one of the following reactions :
Like
,
Love
,
Haha
,
Wow
Minimum Requirements:
Windows 10/8/7/Vista/XP and Windows Servers 2016, 2012, 2008, 2003